ABOUT US
BitBeamCannon is a small independent game studio dedicated to making retro arcade and console style games highly inspired by the 8 and 16 bit era of video games. BitBeamCannon was founded by two veteran pixel artists, Michael Parent and Corey Annis.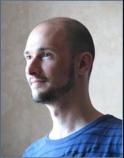 Michael Parent was the first artist in the New York Gameloft studio when it opened and has since been the lead/senior artist on countless titles for mobile devices and Nintendo DS. He's worked for Gameloft, Glu Mobile, Sega, Wayforward, and many other studios over the last decade plus.

Corey Annis has been a professional artist in the game industry for roughly nine years. He worked at Superscape, Glu Mobile, and Banana and Co. before joining BitBeamCannon.